Photoshop 2023 is out guys and we are super excited about the time saving features included.
It's hard to imagine a better photoshop but every year the guys at Adobe manage to  release updates that improve efficiency and push the creative boundary for designers. This year isn't any different, with amazing features that improve your workflow but one thing is glaring from these updates:The guys at Adobe since photoshop 2021 are intent on automating every feature on photoshop through Artificial intelligence.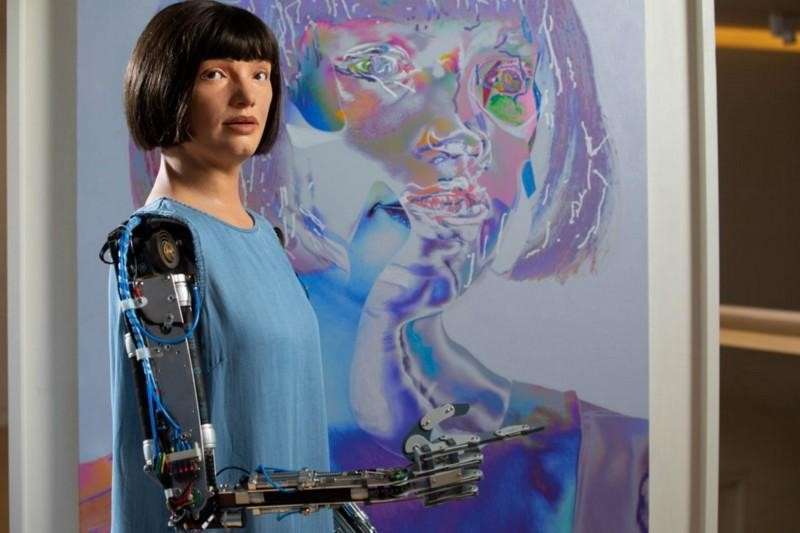 Image Credit: Cateraart
While there is the debate if creatives should be worried about Ai, the time saving features they bring are hard to dismiss.
Here's a quick look  are some features handled by AI since 2020
Sky replacement

: Swap out boring skies with exciting ones from your system or use any preloaded sky right inside photoshop. All within a single click!

Neural filters

:Change the direction of a subject's gaze, add a smile or a frown via simple slider features in photoshop. Do you want to make your subjects look older? You can do this too with neural filters.

Selection tools;

selection tools like object selection, content aware background removal became automated and allowed users perform complex tasks like hair removal in a matter of seconds.  
The point is AI for photoshop users is the fairy Godmother to Designers; it lets you do more in less time and with less effort. 
Photoshop 2023 new features improves efficiency thanks to these 7 time -saving features.
1.Backdrop Generator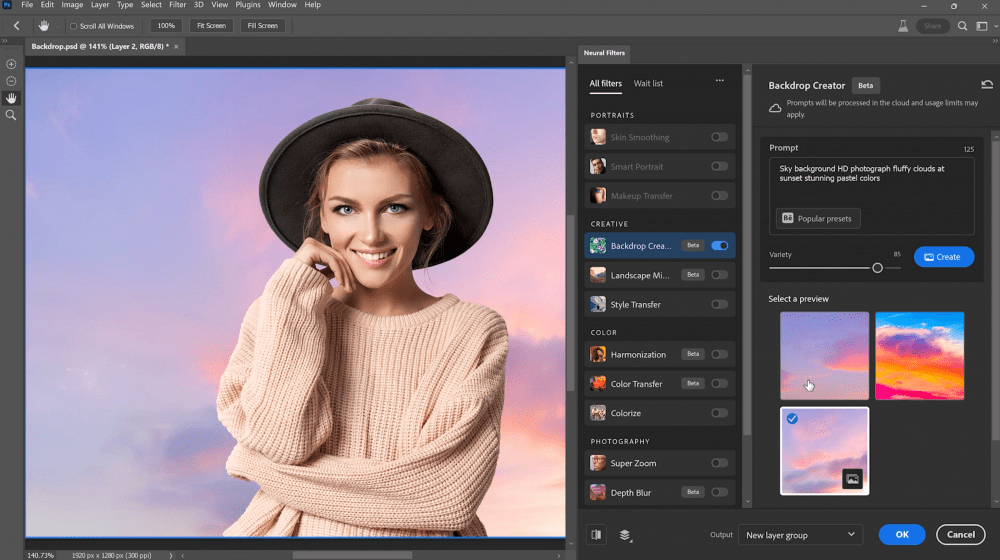 Image Credit:Photoshoptrainingchannel
Make custom backgrounds right inside photoshop with AI assist.
Thanks to AI backdrops non-existent in original portraits can be generated. 
Backdrops add texture and drama to portraits. With the photoshop 2023 new features all the backdrops of your dreams are available for free. 
 

Filter > Neural Filters > Backdrop Creator

To create your desired backdrop.

Use a

prompt

i.e features your backdrop should have, or simply use from the list of preloaded backdrops.
Quick tip: You get 3 different results to choose from when you use prompts. Choose your best. 
2.Substance materials
Source: Adobe.com
A functional 2023 photoshop feature is the substance material feature  found previously in 3D software only.
The substance feature lets you add realism to created artwork by imputing texture to them.
Source: Photoshoptrainingchannel
You can choose from several preloaded textures to make your work realistic or search for more in the Adobe Page section.
3.One-click Delete and Fill
Source: Adobe.com
The content aware tool lets you delete selected areas of an image and fill them with nearby objects but this feature even with updates was never perfect and left some clean ups for users. 
With photoshop's 2023 update this might be over! .With the one-click Delete and Fill Selection feature, users can remove objects or people and have their positions blended with the background easily. 
This feature works with even complex backgrounds. Here's how to use
Enter the Object

Selection Tool

to make your selection and press

Shift Backspace (Windows)

or

Shift Delete (macOS)

.
When Working with the Lasso tool or any other Photoshop tool, simply right-click the mouse to access the Delete and Fill option from the contextual menu and delete selections instantly. 
4.Photo Restoration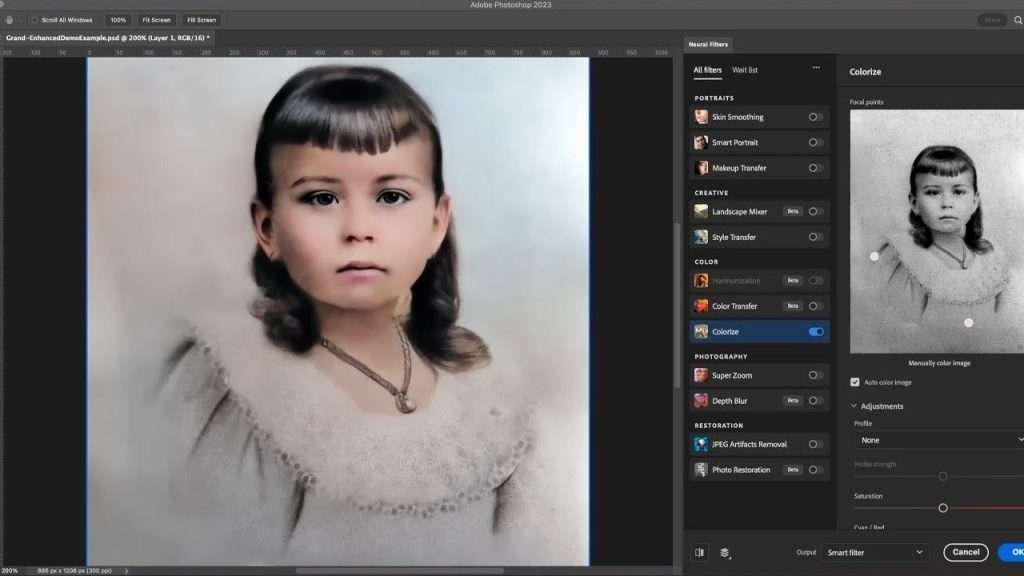 Source: Adobe.com
Bring old photos back to life with the photo restoration tool by resolving common defects found on old photos such as scratches.To access this tool  Go into File > Neural Filters > All filters.
Ensure the Photo Restoration Beta filter is enabled.
This filter attempts to restore Photos with just a few clicks. 
Colorization can be added to black and white images for a modern touch!.
5.Invite to Edit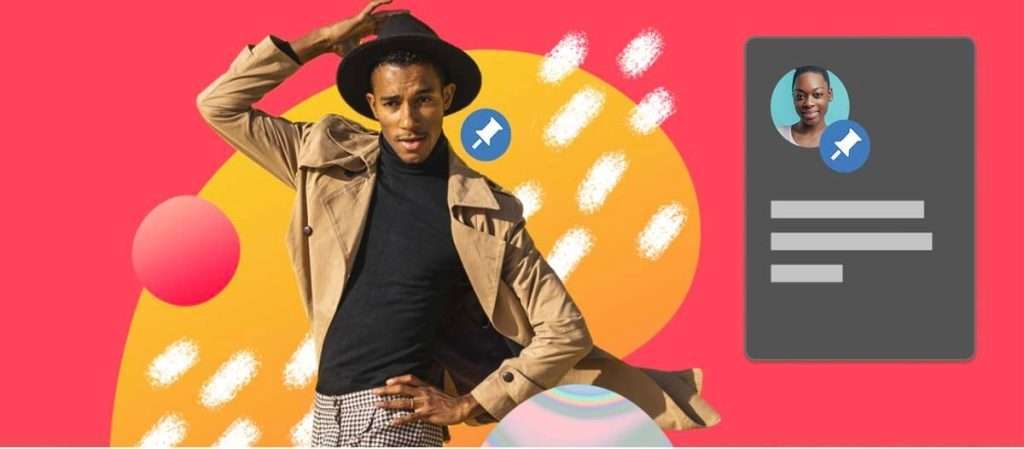 Source: Adobe.com
What's the 21st century without collaboration? 
You might think file sharing and cloud editing are limited to Google docs or Adobe xd but adobe is bringing this collaborative feature home with the invite to edit update in photoshop 2023.
Users with the photoshop 2023 new feature can now invite collaborators to edit and even determine the extent of their participation in a project. 
This feature logically works with cloud documents only so ensure your file is saved as one.
There are 3 easy ways to invite collaborators 
Share

button >

Invite to edit
File

>

Invite to edit
Window

>

Comments
The share menu allows you add collaborators via email addresses, assign permission levels and send optional notes before inviting a collaborator.
6 Live Gaussian Blur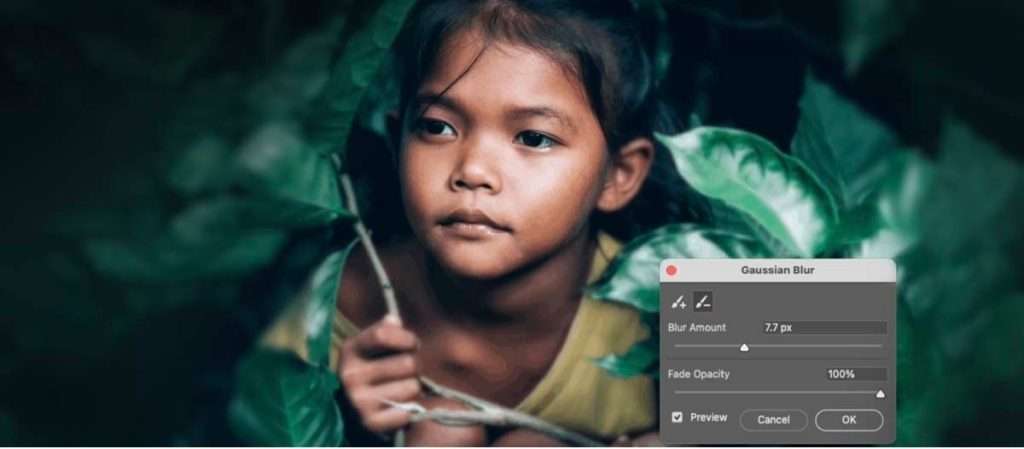 Source: Adobe.com
The gaussian blur filter is an old feature of photoshop used for retouching. 
The previous gaussian blur filter lets users edit within a dialog box and wait for blur settings to be applied on an image. The gaussian blur update, however let's you view  changes instantly thanks to the 2023 update. 
Now you can sample colors, pan, zoom, apply blend modes, opacity, and toggle layer visibility and view changes to your images in real time. 
For now it's available as a feature on Photoshop Beta for Mac users only. 
To install Photoshop (Beta), visit the Beta apps tab of your Creative Cloud desktop app and select the Install button next to Photoshop (Beta).
7 Live Gradients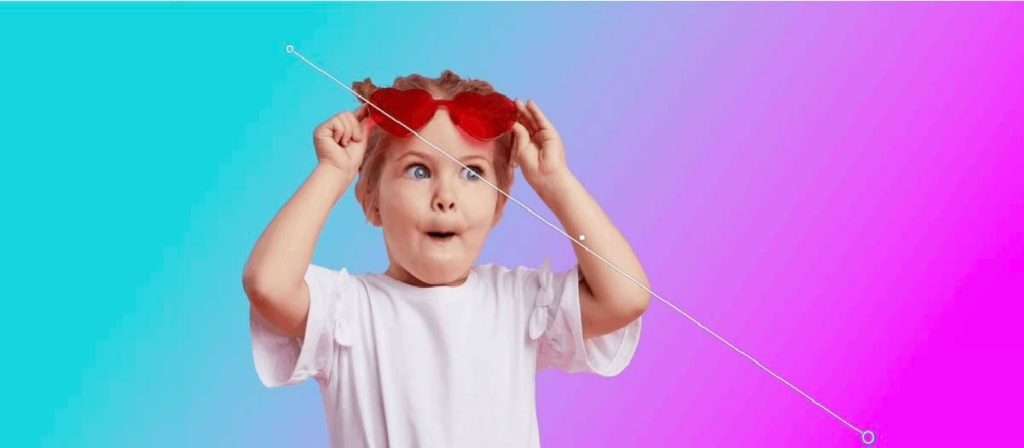 Source: Adobe.com
Another real time feature in the new features for photoshop 2023 are Live gradients.
Blending multiple colors just got easier with the ability to view changes like opacity and color intensity  in real time.
To use Select the desired area to apply the gradient fill, then choose the Gradient Tool from the toolbar.
The gradient widget will appear on your canvas and adjustments can be made there in real time. 
8 Gpu Status Indicator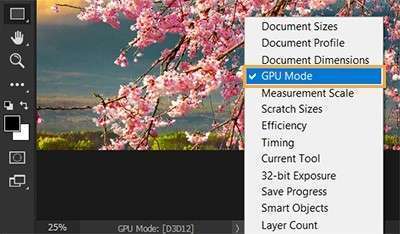 Source: Adobe.com
Rendering problems are common to photoshop users. They occur when graphic cards fail or ram space becomes low. 
As common as they are, there was never a way of knowing the exact problem with a system's GPU; your rendering simply failed and you guessed what the problem was.
The new 20223 feature in photoshop however, let's you take precise steps when rendering problems occurs by presenting users with data on the current performance of a GPU. 
To open the Document Status menu and select GPU Mode to display the GPU operating mode for your open document. 
How do I update to photoshop 2023?
Updates are important but a wrong step could mean a loss of valuable time trying to restore your favorite settings or workflow.. 
Thankfully we have a guide on the correct way to update photoshop and backup your files in the process so you don't lose a thing. 
With this guide you can safely migrate to Photoshop 2023 and enjoy its updates!