AI is the new buzzword which stands for Artificial intelligence designed to replicate or improve on the products of human thinking. Years ago it was used for logic related tasks only e.g Driving, calculations,storage etc  Today, AI is used for tasks beyond logic to include  AI tools for content writing
How can AI be creative?
AI can be creative in 2 major ways
1.Novel combinations. Computers through complex algorithms combine existing ideas into new ones
2.Conceptual spaces. Feed a computer with a basic principle and it generates ideas from this same principle.

Image Credit: markuswinkler-unsplash
Is AI a threat to Artists?
On February 10, 1996,Garry Kasaprov lost a chess game to IBM, a machine setup to analyze 200 million moves per second. This moment along with ones where AI's won in art competitions have led many creatives into thinking if AI is a threat to creativity. But it isn't;
AI can actually help humans achieve results faster and level the playing ground for everyone.
Luckily we've put together the top 7 AI tools you can use to generate writing content  on the go without breaking a sweat 
Here are 7 Ai Tools for writing content:
jasper

Copy AI

Sudowrite

Article forge

Chibi

Chhatgpt

Grammarly
1.Jasper: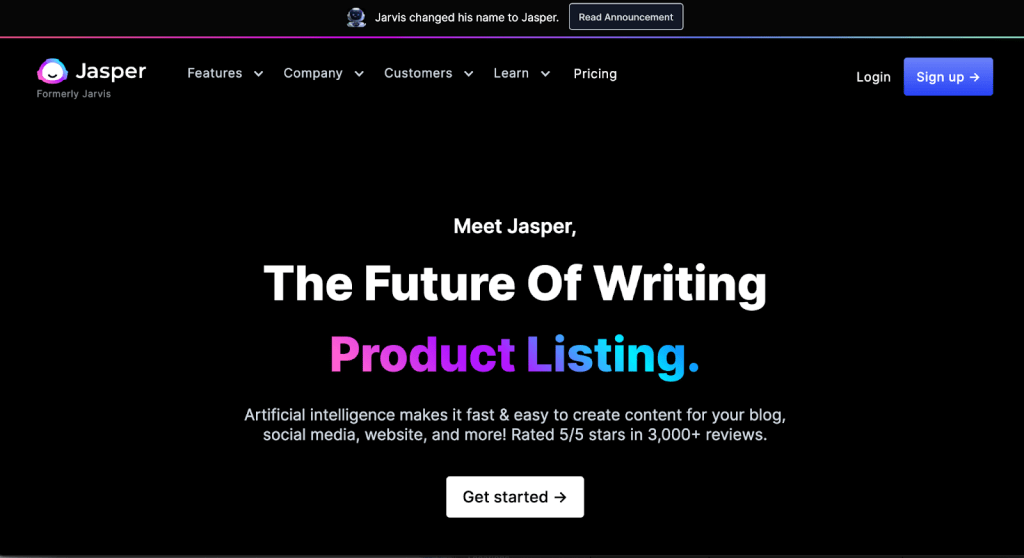 Image Credit: Jasper
Formerly known as Jarvis, Jasper is among the AI jotting software tools leaders. 
Using Jasper article generation can be performed in seconds. Its integration with seo tools like SEO surfer means your content can be SEO ready from the get go. There's also a plagiarism checker to ensure plagiarism free content.   
Pricing: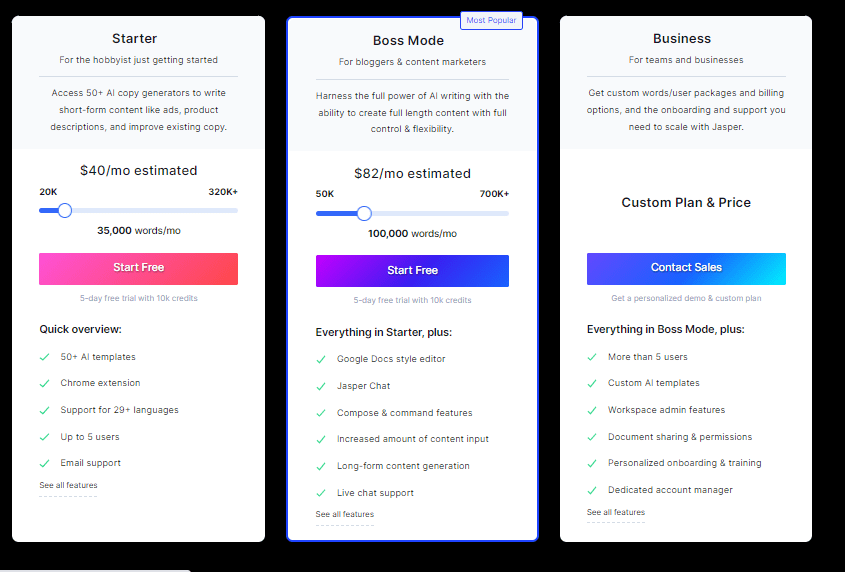 Image Credit: Jasper
Starter Mode:$29/mo
Boss mode:$59 monthly
SEO Surfer add-on: starts at $59/mo
2.Copy AI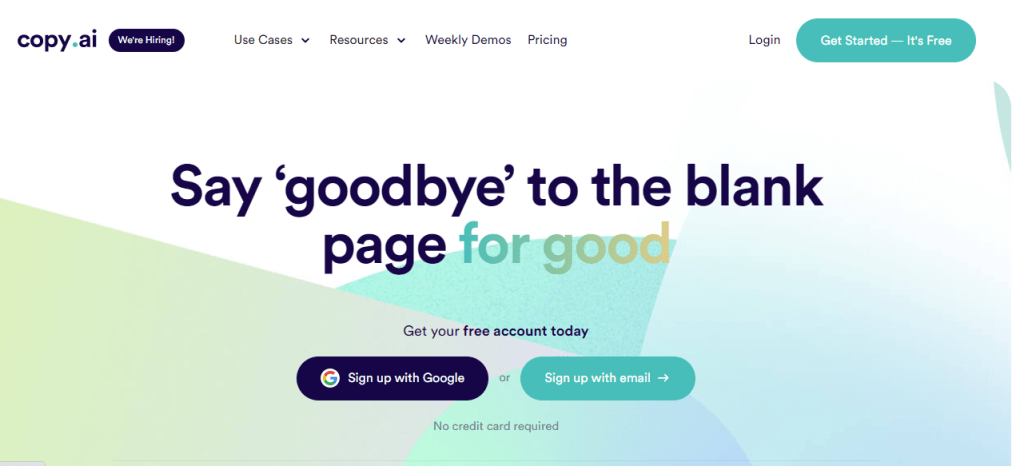 Image Credit: Copy.ai
It promises writers an end to blank pages with easy to use AI article generators. It's a favorite for marketers who want blogs, emails, sales copy, headlines and social media posts that convert.
Pricing: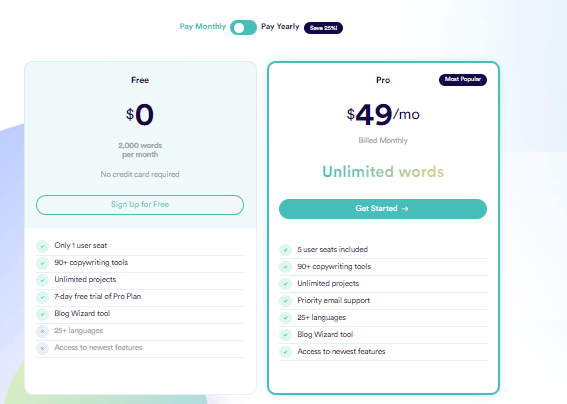 Image Credit: Copy.ai
Pricing:
Free: $0
Unlimited: $49
3.Sudowrite

Image Credit: Sudowrite
A wordsmith tool for generating content, rewriting existing ones and generating ideas. While other content writing tools offer unique features sudo write keeps things simple and stays focused on article generation.
Pricing: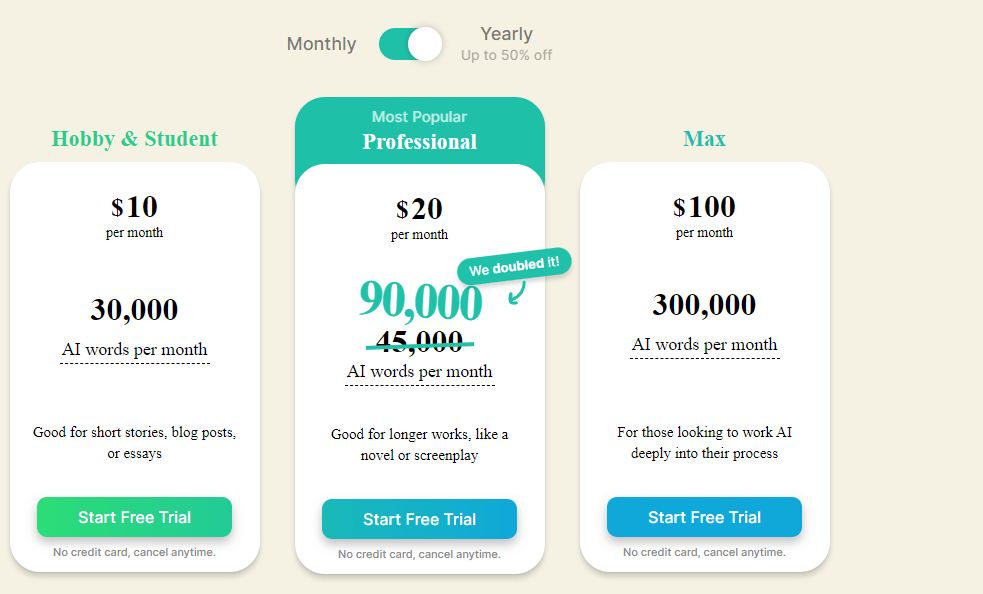 Image Credit: Sudowrite
Hobby & student: $10
Professional:$20
Max:$100
4.Article Forge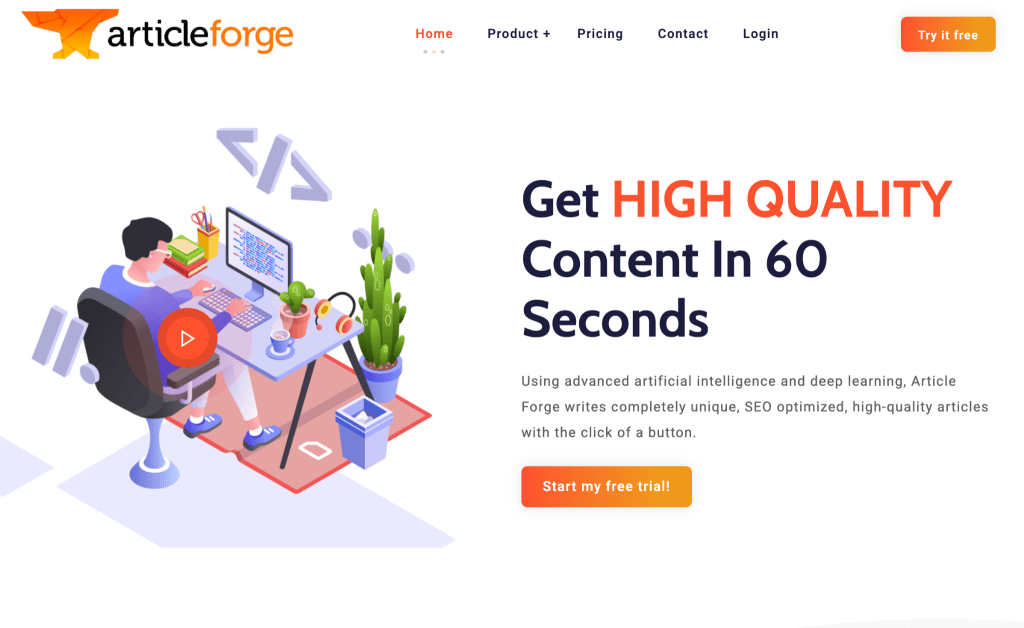 Image Credit: Article Forge
An AI tool for writing content  is good, but an AI tool that writes SEO -ready content is even better. 
 Article forge in 60 seconds offers you  SEO ready drafts to set your creative juices flowing. 
Like what you see and feel its okay? Then hit publish. It's all up to you.
Pricing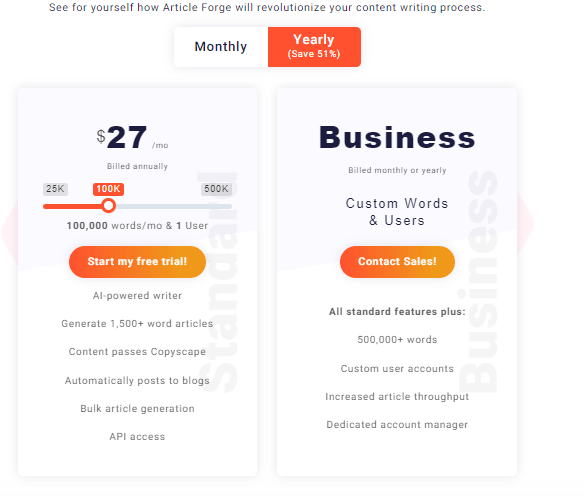 Image Credit: Article Forge
Starter $27/yr |57/mo
Business: Based on Customer's need
5.Chibi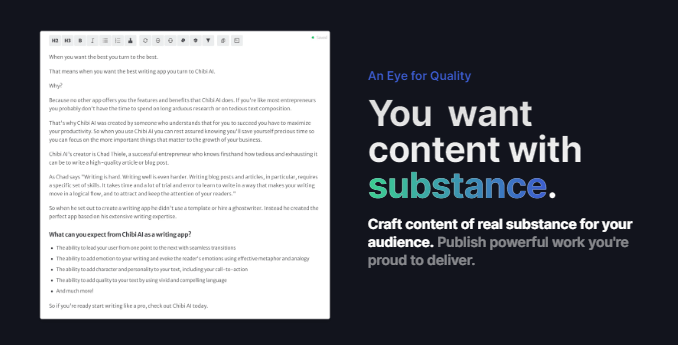 Image Credit:Chibi
A personalized writing tool for writers who produce their articles but want help in areas like paraphrasing, change of tone, paragraph shortening, or expansion. 
Chibi is personalized; using chibi writers decide the perspective an article is written from or simply let their articles be generated automatically.
Pricing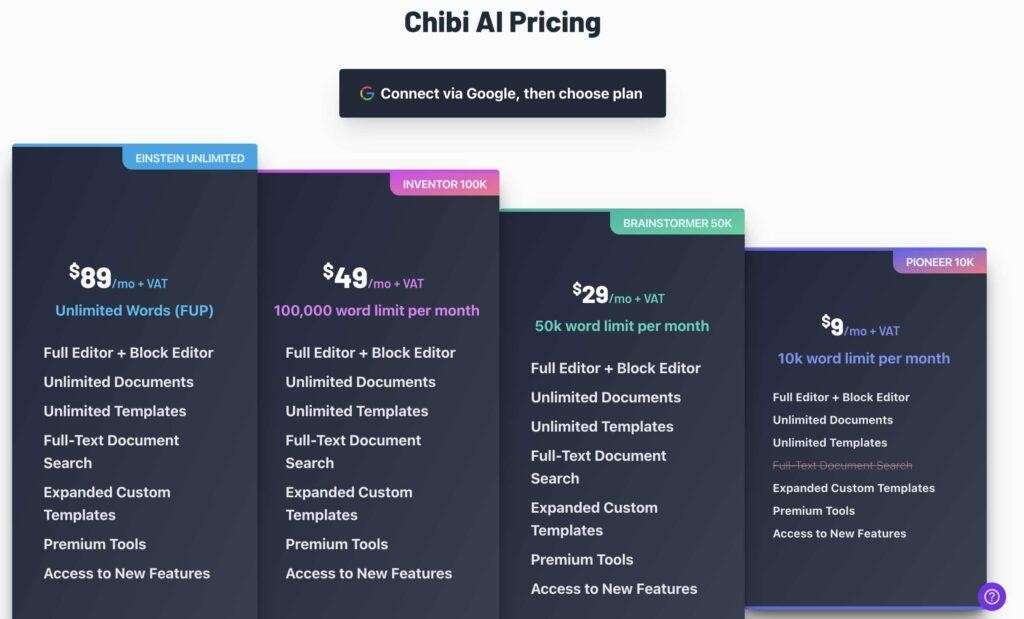 Image Credit:Chibi
Pioneer 10K – $9/mo
Brainstormer 50K – $29/mo
Inventor 100K – $49/mo
Einstein Unlimited – $89/mo
7.Grammarly
No AI tool for writing content would be complete without Grammarly founded in 2009 to help people communicate more effectively, 
Grammarly is used by 30 million people and 50,000 teams to improve their content's tone, clarity, wordiness, style, and punctuation, tone, and for plagiarism checks.
Pricing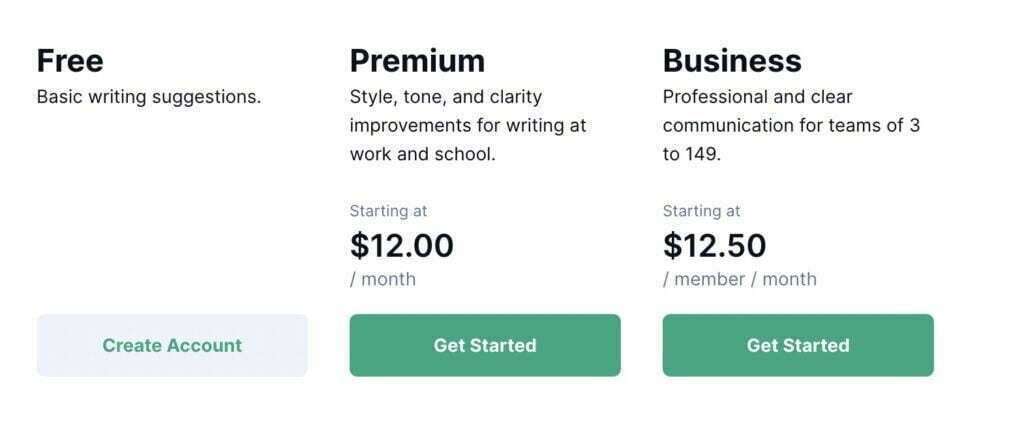 Image Credit: Grammarly
Free:       $0
Premium: $12
Business  $12.50
7.ChatGPT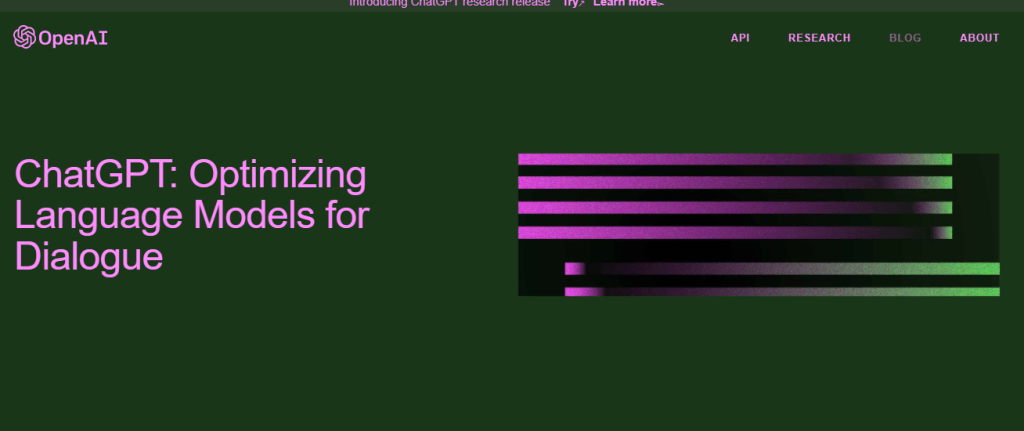 Image Credit:ChatGPT
It's an AI alright, but its conversational replies make you wonder if there's a human behind each reply. 
 Using ChatGPT  users through specific keywords get conversational essays, computer code, lyrics and even poetry in Shakespearean English offered to them. 
Pricing: Free to use during the feedback period.
Get more creative with AI tools for content writing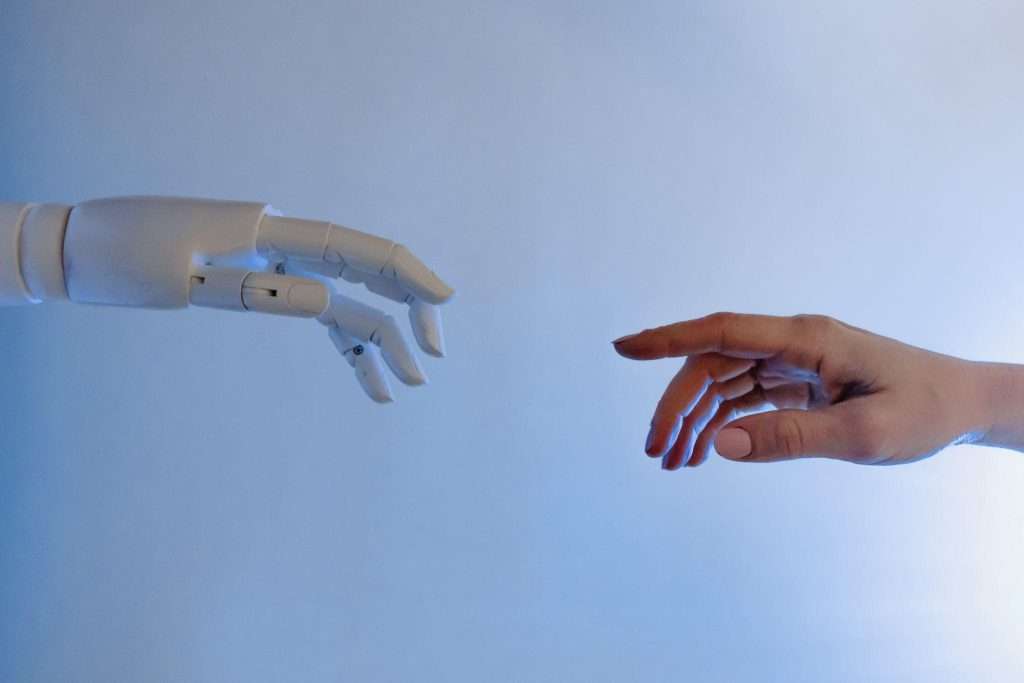 The deep mind AI is capable of imagination and perceiving consequences. These are leaps in AI technology creatives can benefit from; machines able to predict the consequences of their artwork on society.
So rather than sit on the fence try any of these 7 Ai tools for generating ideas and get rocking.
Other AI tools to check out
AI tools for enhancing videos and photos